Letter from Nelson Mandela regarding MTA award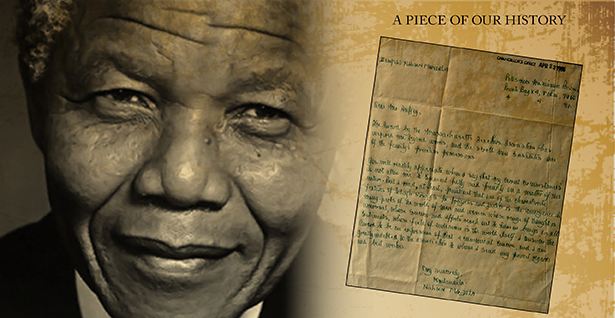 A declaration of solidarity and support from the Massachusetts Teachers Association provided a bit of solace and fortitude to future South African President Nelson Mandela years ago as he sat in prison facing a life sentence.
At its 1986 Human and Civil Rights Conference, the MTA honored Mandela's "commitment and persevering efforts in the interest of justice" and his "unwavering example of strength and integrity." The words come from a scroll presented to Mandela's daughter Makaziwe Mandela, then a graduate student at the University of Massachusetts in Amherst, who attended the event to accept the award.
Word of the honor reached her father, who was deeply touched.
At the time, Mandela was in South Africa's Pollsmoor Maximum Security Prison. Nonetheless, he wrote to thank the MTA, saying that its recognition "has inspired me beyond words, and the scroll now constitutes one of the family's priceless possessions."
Mandela's letter is dated April 4, 1986, and is handwritten. Framed and carefully preserved, it has graced a wall at MTA headquarters in Boston in the intervening years.
Mandela, who died on Dec. 5, 2013, at age 95, became the international face of the opposition to South Africa's racist system of apartheid. Imprisoned by the country's segregationist government, he spent 27 years behind bars before international and internal pressures forced his release in 1990.
In 1993, Mandela and then-South African President F.W. de Klerk shared the Nobel Peace Prize for negotiating an end to apartheid. In 1994, Mandela was elected president of South Africa.
As the world marks his death, he is being remembered as a towering figure in the struggle for justice.
"Nelson Mandela was a model of courage, compassion and reconciliation," said MTA President Paul Toner. "He has made a lasting contribution not only to his country, but to the entire world.
"I am proud that during Mandela's lifetime, even while he was wrongly imprisoned, the MTA recognized his work for justice, human rights and equality for all," Toner continued. "As we mourn his passing, we also celebrate his legacy of greatness and his service to people everywhere.
"I join my fellow educators and our students in paying tribute to a great man on this day of sadness and reflection," Toner said. "I also believe there is still much to learn from the very deep lessons Mandela imparted to all of us during his lifetime."
Nancy Finkelstein, who was president of the MTA at the time the association gave Mandela the award, said that educators were deeply involved in the political actions opposing apartheid and Mandela's imprisonment.
"We picketed the South African Embassy in Washington," she recalled. "His struggle was symbolic of what was happening right here in this country with people of color. We saw inequality right here. Supporting him went along with the work we were doing right here fighting against inequality in this country."
Mandela wrote to the MTA via the office of UMass Chancellor Joseph Duffey, presumably because his daughter sent the award back home from her campus. Finkelstein said that the MTA would not have even known about the letter if Duffey had not passed it along.
Educators who were present at the ceremony remember being moved and thrilled when the honor was presented to Makaziwe Mandela on behalf of her father.
"Many of us did not know the story of his life up to that point," said Louise Gaskins, who was chair of the MTA Human and Civil Rights Council at the time. "And his daughter brought it to the fore for us."
Gaskins said the moment when the audience broke into singing "We Shall Overcome" was memorable and emotional.
An MTA Today story on the conference, which was held in Westborough, paints the following picture: "Makaziwe Mandela raised her fist, intoned the Zulu word for 'power,' and brought 180 educators to their feet to cheer, to sing, and even to weep."
Gaskins called Nelson Mandela's life story a powerful message.
"To think that that man could stay in prison for that long and come out without acting out of bitterness and anger, but had matured to the point that he realized that in order to accomplish his goals, he was going to have to work like we witnessed," she reflected.
Kathleen Skinner, who was then a teacher in Somerville and now serves as the director of the MTA's Center for Education Policy and Practice, noted that the time between the conference and Mandela's death was roughly the same amount of time that Mandela spent behind bars.
"I vividly remember that day," Skinner said, looking back to the conference. "The room was overwhelmingly emotional as this daughter spoke for her father.
"It was as though this man whom all of us so admired was in the room with us," she said. "It's very emotional, 27 years later, thinking back to that event."